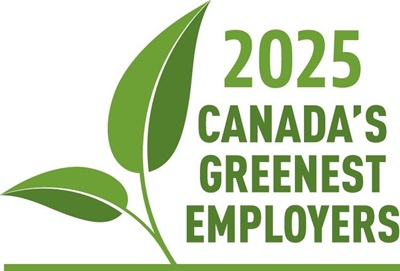 RONA once again recognized for its leadership in sustainable development
The retailer, which operates the Lowe's, RONA, and Réno-Dépôt banners, has been named one of Canada's Greenest Employers for a third consecutive year
Boucherville, Québec, April 18, 2023 – RONA inc., one of Canada's leading home improvement retailers operating or servicing some 450 corporate and affiliated stores under different banners, has been named one of Canada's Greenest Employers for a third consecutive year. This ranking published as part of Mediacorp's Canada's Top 100 Employers contest, recognizes employers who demonstrate leadership in sustainable development and proactively create a culture of environmental awareness within their organizations.
"Receiving this type of recognition is deeply important to us because it confirms that we are doing the right thing as a company and that we have a positive impact on society,'' explains Mélanie Lussier, Director, External Communications and Sustainable Development at RONA inc. "Every year, we launch new projects and adopt new measures to improve our environmental track record. It's important for us to continue to improve our ways and do our part to protect the natural heritage of future generations."
Organizations in the Greenest Employer ranking are evaluated on the following four criteria:
Unique initiatives and programs developed to care for the environment;

The positive outcome of efforts to reduce their own environmental footprint;

The involvement degree of employees in these programs, and whether they have unique skills to contribute; and

The extent to which these initiatives are linked to the employer's public identity and serve to attract new employees and customers.
A Team Success
To carry out its many projects, RONA relies on the active and enthusiastic participation of its employees who are committed to making a difference. In 2022, the company launched its brand-new ECO Squad in stores, made up of employees who are motivated to play an active role in helping the organization achieve its environmental goals. "Creating a culture of sustainability that reaches all areas of the company is very important to us at RONA. It is something that resonates strongly with our employees, but also with potential candidates and with our customers. We feel it's important for people to partner with and encourage responsible businesses," adds Lussier.
To share this news on social media, please use @RONAcarrierses.careers (Facebook), @RONA (LinkedIn) and @RONAinc (Twitter).
About RONA inc.
RONA inc. is one of Canada's leading home improvement retailers headquartered in Boucherville, Québec. The RONA inc. network operates or services some 450 corporate and affiliated dealer stores under the Lowe's, RONA, Réno-Dépôt, and Dick's Lumber banners. With a long and rich history, RONA inc. supports Canadians in their home improvement and construction projects since 1939. To achieve this, the company relies on a team of 26,000 employees, to whom it strives to provide an inclusive workplace where everyone is invited to contribute. RONA inc. is one of the Montréal region Top Employers since 2021. As a result of its ongoing efforts in sustainable development, the company was also awarded the Stratégie de développement durable Mercury in 2022 and is recognized as one of Canada's Greenest Employers. To learn more about the company, visit the website www.ronainc.ca.
About Mediacorp Canada Inc.
Founded in 1992, Mediacorp Canada Inc. is the nation's largest publisher of employment periodicals. Since 1999, the Toronto-based publisher has managed the Canada's Top 100 Employers project, which includes 18 regional and special-interest editorial competitions that reach over millions of Canadians annually through a variety of magazine and newspaper partners, including The Globe and Mail. Mediacorp also manages Eluta.ca, one of the largest job search engines in Canada. They reach over two millions of job seekers annually and features editorial reviews from the Canada's Top 100 Employers project.