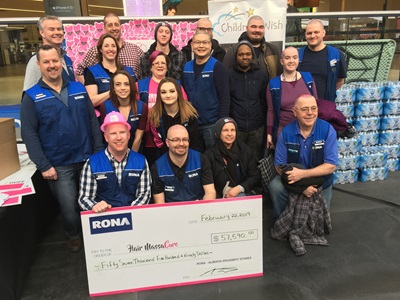 RONA raised more than $55,000 as part of the 2019 Hair Massacure campaign
Corporate RONA stores throughout Alberta united once again to help children battling cancer
Boucherville, QC – February 25, 2019 – RONA, a banner of Lowe's Canada, a leading home improvement retailer in Canada, is proud to announce that its 23 corporate stores in Alberta, along with its Calgary distribution centre, have raised more than $55,000 as part of the 2019 Hair Massacure campaign. RONA's donation was revealed last Friday at the West Edmonton Mall, during the highlight event of the campaign: the Hair Massacure head-shaving day, where close to 1,000 persons from all over Alberta, including 20 RONA employees, shaved off their hair for donations.
"Hair Massacure is a campaign that is very dear to our hearts here at RONA. Each year, I find it moving to see everyone rally for the cause and work as a team to raise as much money as possible to support cancer research. Over the past 10 years, some 300 RONA employees have personally participated to this campaign, raising over $850,000 to help children living with cancer," said Scott Legrand, Store Manager at RONA Stony Plain in Edmonton and Captain of this year's campaign for RONA. "Through Hair Massacure, the MacDonald family brings hope and relief to all those facing cancer in Alberta and we are immensely proud to be partnering with them to help fight cancer."
Initiated in 2003 by Tammy and Gordon MacDonald–whose daughter, Kali, was diagnosed with cancer at the age of two– Hair Massacure is an annual fundraising campaign that partners with charities supporting cancer research and bringing relief to children living with life-threatening diseases in Alberta. This year, the funds raised through the campaign will go to the Children's Wish Foundation of Canada and Terry Fox PROFYLE, an unprecedented national pediatric cancer research project uniting some 30 fundraising and research partners in Canada to help further the fight against cancer.
"2019 marks the 10th year where Hair Massacure has received generous support from RONA–initially via Totem Building Supplies, which later became part of the RONA family. Throughout, RONA has provided materials for our family's event at West Edmonton Mall Ice Palace, staff engagement through team fundraising, advertising, and proceeds from sales of Kali Bear icons, carpenter pencils, and new this year, from Kali Pink hair colour," explained the MacDonald family. "The support, engagement and enthusiasm of RONA's employees is by far the most appreciated by our family. We cannot express enough our highest gratitude for the financial support and most rewarding experiences in our relationship with the RONA community."
The Hair Massacure campaign ran throughout the corporate RONA network in Alberta from January 14 to February 24. In addition to raising funds through the sale of special items, employees from RONA's corporate stores and Calgary distribution centre participated in several other fundraising activities, including the famous "pinking days", where employees dyed their hair pink for donations and last Friday's Hair Massacure event.
About RONA
Created in 1939, RONA is a banner of Lowe's Canada, one of Canada's leading home improvement companies headquartered in Boucherville, Quebec. Spanning the entire country, its vast network of more than 400 stores includes both corporate stores and independent affiliated dealers stores. Known for its large in-store and online product selection as well as for its installation services, RONA also provides expert support and advice to its retail and pro customers for their building and renovation projects. For more information, visit rona.ca or follow us on Twitter, Facebook, and Instagram.
About Lowe's Canada
Lowe's Companies, Inc. (NYSE: LOW) is a FORTUNE® 50 home improvement company serving more than 18 million customers a week in the United States, Canada and Mexico. With fiscal year 2017 sales of $68.6 billion, Lowe's and its related businesses operate or service more than 2,240 home improvement and hardware stores and employ over 310,000 people. Based in Boucherville, Quebec, Lowe's Canadian business, together with its wholly owned subsidiary, RONA inc., operates or services more than 600 corporate and independent affiliate dealer stores in a number of complementary formats under different banners. These include Lowe's, RONA, Réno-Dépôt, Ace and Dick's Lumber. In Canada, the companies have more than 28,000 employees, in addition to approximately 5,000 employees in the stores of independent affiliate dealers operating under the RONA and Ace banners. For more information, visit lowescanada.ca.