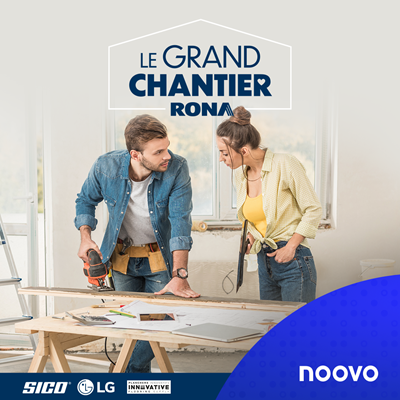 RONA returns to Québec Television with Le Grand chantier RONA
The show, created in partnership with Noovo and produced by Zone3, will air in 2024
Boucherville, Québec, November 1, 2023 – RONA inc., one of Canada's leading home improvement retailers operating or servicing some 425 corporate and affiliated stores under different banners, announced today its return to Québec television with the reality show Le Grand chantier RONA created in partnership with Noovo and produced by Zone3. Hosted by none other than Marie-Lyne Joncas, the show will be Québec's biggest home improvement competition, with 12 couples competing over 10 weeks to win a brand-new, fully furnished home.
"20 years after the amazing success of Ma Maison RONA, we're really excited to be back on television to offer Quebecers an all-new home improvement show that will allow the winning couple to receive a new home worth $700,000," exclaims Catherine Laporte, Vice-President, Marketing at RONA. "We've been toying with the idea of returning to TV in Québec with this type of project for a long time, and in the current housing crisis, it's even more meaningful for us to be able to help a couple to gain access to homeownership. As a company founded and headquartered in Québec, we're really proud to be investing here with a project of this scale. And I want to thank LG, SICO and Innovative Flooring Supply who decided to embark with us on this incredible project."
Le Grand chantier RONA is recruiting
Couples wishing to take part in this great adventure can register now. The team behind Le Grand chantier RONA is currently looking for passionate and determined couples who want to experience this opportunity of a lifetime. Interested candidates can apply at noovo.ca (French only). To find out more about the eligibility criteria and about this new show, visit rona.ca/en/le-grand-chantier.
To share this news on social media, please use @RONAcarrieres.careers and @ronainc (Facebook), @rona.ca (Instagram), @RONA (LinkedIn) et @RONAinc (X – formerly Twitter).
About RONA inc.
RONA inc. is one of Canada's leading home improvement retailers headquartered in Boucherville, Québec. The RONA inc. network operates or services some 425 corporate and affiliated dealer stores under the Lowe's, RONA+, RONA, Réno-Dépôt, and Dick's Lumber banners. With a long and rich history, RONA inc. supports Canadians in their home improvement and construction projects since 1939. To achieve this, the company relies on a team of 22,000 employees, to whom it strives to provide an inclusive workplace where everyone is invited to contribute. RONA inc. has been one of the Montréal region's Top Employers since 2021. As a result of its ongoing efforts in sustainable development, the company was also awarded the Stratégie de développement durable Mercure award in 2022 and is recognized as one of Canada's Greenest Employers. To learn more about the company, visit the website www.ronainc.ca.