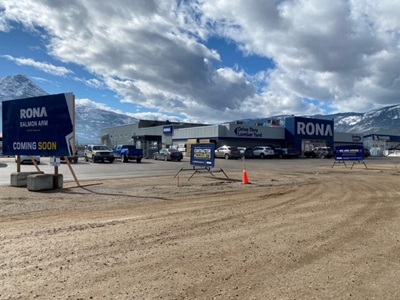 RONA Salmon Arm in British Columbia - new owner and new look
Boucherville, QC – April 8, 2022 – Lowe's Canada, one of Canada's leading home improvement retailers operating or servicing some 450 corporate and affiliated stores under different banners, congratulates the Allen family for acquiring RONA Salmon Arm Building Supply located at 2430 10th Avenue SW, in Salmon Arm, British Columbia.
The store location dates back at least 6-decades, to the days of West Fraser Timber, and has operated under different banners over the years. The new ownership in Salmon Arm is the Allen Group who owns other RONA stores located in North Vancouver and in Powell River. The Allen Group has over 50 years of retail experience and has been with RONA since 2004.
The store's total area now encompasses 30,000 square feet and includes a 24,000 sq. ft. indoor sales floor and an adjacent 6,000 sq. ft. outdoor Garden Center. This RONA store also has a very large and accessible drive-through lumber yard, as well as a section dedicated to contractors. In addition to the inventory available in store, they will offer thousands more products online and all the RONA programs including VIPpro. Customers will be able to find a complete assortment of seasonal, outdoor, painting, plumbing, hardware, and electrical products, as well as various appliances.
In addition, they have led their first "We are Hiring" campaign and it was very successful with over 60 candidates queued outside to apply to work at this new location, with many other applications online. The quality of the applicants will help them to be ready for the opening of the store planned for April.
"We're very excited at the opportunity to continue expanding our store network within the RONA family. The RONA banner has been a great fit for our business model, providing added value that helps us better serve our customers and meet their highest expectations, whether in terms of convenience, quality, variety, or price," says Bruce Allen, President of B. H. Allen Building Centre Ltd.
"We are extremely proud to continue our collaboration with the Allen Group as they acquire a third RONA store in British Columbia. Their extensive retail experience and understanding of customer needs will help make this destination a go-to store for customers in the Salmon Arm area. The Allen Group shares RONA's values and we're confident that they will serve customers in this region effectively," adds Philippe Element, Vice-President, RONA Sales and Dealer Support at Lowe's Canada.
To share this news on social media, please use @RONA (Facebook), @RONA (LinkedIn), and @RONAinc (Twitter).
Founded in 1939, RONA is a banner of Lowe's Canada, one of Canada's leading home improvement retailers headquartered in Boucherville, Quebec. Spanning the entire country, the vast network of more than 360 RONA stores includes both corporate stores and independent affiliated dealer stores. Known for its large in-store and online product offering, RONA also provides expert support and advice to its retail and professional customers for their construction and home improvement projects. For more information, visit rona.ca or follow us on Twitter, Facebook, Instagram, Pinterest, and YouTube.
Lowe's Companies, Inc. (NYSE: LOW) is a FORTUNE® 50 home improvement company serving approximately 19 million customer transactions a week in the United States and Canada. With fiscal year 2021 sales of over $96 billion, Lowe's and its related businesses operate or service nearly 2,200 home improvement and hardware stores and employ over 300,000 associates. Based in Boucherville, Quebec, Lowe's Canadian business, together with its wholly owned subsidiary RONA inc., operates or services some 450 corporate and independent affiliate dealer stores in a number of complementary formats under different banners, which include Lowe's, RONA, Reno-Depot, and Dick's Lumber. In Canada, they have more than 26,000 associates, in addition to approximately 5,000 employees in the stores of independent affiliate dealers operating under the RONA banner. For more information, visit lowescanada.ca.