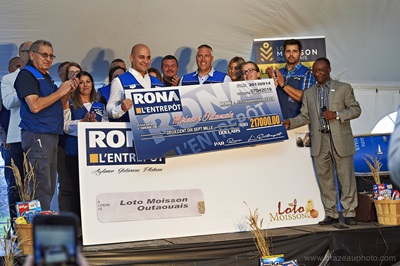 RONA stores present $217,000 to Moisson Outaouais, hitting the $1M mark in total donations since partnering with the organization
Four corporate RONA stores in the Outaouais region joined forces to support the regional food bankas part of the 2019 Loto-Moisson campaign
Boucherville, QC – September 12, 2019 – Lowe's Canada, one of Canada's leading home improvement retailers, is proud to share that last night, its four corporate RONA stores in the Outaouais handed over a cheque in the amount of $217,000 to Moisson Outaouais as part of the 2019 Loto-Moisson campaign.
Since 2011, the Gatineau RONA stores have been actively supporting Moisson Outaouais. In 2013, they created Loto-Moisson, the food bank's biggest annual fundraising campaign. Since then, this campaign has been raising thousands of dollars each year through the sale of lottery tickets at various points of sale in the Gatineau area, including the city's four RONA stores. "As every year, our teams are firmly committed, and this fundraising campaign is especially important to them. Our customers are all very generous, and we are grateful to them. It is by combining our efforts that we will succeed in making a real difference in helping those in need within our community," explained Junior Charbonneau, Regional Director of Operations at Lowe's Canada.
Since they first started supporting Moisson Outaouais, the Outaouais RONA corporate stores have presented a grand total of one million dollars to the food bank. In addition to being major partners of the annual Loto-Moisson campaign, they support the food bank through several activities held throughout the year, including the Holiday food drive.
"We are lucky to count on the continued support of the region's RONA stores," declared Armand Kayolo, General Manager of Moisson Outaouais. "These stores' employees and customers show exemplary dedication and generosity year after year. In a context where 29,000 people live with food insecurity in the Outaouais region, our partners' invaluable support plays a key role in helping us fight hunger and foster hope in the area."
Held from May 13 to September 5, this seventh edition of Loto-Moisson raised a grand total of $260,000 for Moisson Outaouais.
About RONA
Created in 1939, RONA is a banner of Lowe's Canada, one of Canada's leading home improvement companies headquartered in Boucherville, Quebec. Spanning the entire country, its vast network of more than 400 stores includes both corporate stores and independent affiliated dealer stores. Known for its large in-store and online product selection as well as for its installation services, RONA also provides expert support and advice to its retail and pro customers for their building and renovation projects. For more information, visit rona.ca or follow us on Twitter, Facebook, and Instagram.
About Lowe's Canada
Lowe's Companies, Inc. (NYSE: LOW) is a FORTUNE® 50 home improvement company serving more than 18 million customers a week in the United States and Canada. With fiscal year 2018 sales of $71.3 billion, Lowe's and its related businesses operate or service more than 2,200 home improvement and hardware stores and employ approximately 300,000 associates. Based in Boucherville, Quebec, Lowe's Canadian business, together with its wholly owned subsidiary, RONA inc., operates or services more than 600 corporate and independent affiliate dealer stores in a number of complementary formats under different banners. These include Lowe's, RONA, Réno-Dépôt, Ace and Dick's Lumber. In Canada, the companies have more than 28,000 associates, in addition to approximately 5,000 employees in the stores of independent affiliate dealers operating under the RONA and Ace banners. For more information, visit lowescanada.ca.