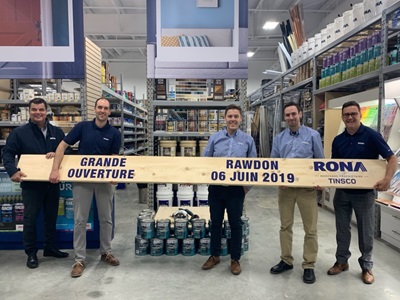 RONA Tinsco in Rawdon celebrates its 30th anniversary with a store twice as big
Over 4,000 additional products are now available
Appliances make their debut at RONA Tinsco
Boucherville, QC – June 6, 2019 – Lowe's Canada, one of Canada's leading home improvement companies, joins dealer owner Bobby Tinkler to celebrate the grand opening of the new RONA Tinsco store, located at 3757 Chemin Saint-Alphonse, in Rawdon, Quebec. The construction and layout of the new store, which has doubled in size, required a $4-million investment. Consumers in the Rawdon area now have access to an appliance assortment on site, as well as a wider selection of seasonal products, building materials, and interior finishing products. The offering expansion has led to the creation of some 15 jobs.
"We were starting to feel cramped in our little downtown hardware store. To continue meeting the growing needs of our retail customers and improve our service offering to local contractors, we built a new store and moved our operations, just in time for our 30th anniversary," said Bobby Tinkler, dealer owner of the RONA Tinsco store. "We took the opportunity to enhance our offering in existing categories, as well as offer brand new assortments, such as appliances. With our 40,000-sq.-ft. lumber yard, our pro desk, and our cut shop, we also want to become a top destination for construction professionals."
Boasting a total surface area of 32,000 sq. ft., the new Chemin Saint-Alphonse store includes a 16,000-sq.-ft. sales floor, a 3,000-sq.-ft. garden centre, a 7,000-sq.-ft. indoor lumber yard, and a 40,000-sq.-ft. outdoor lumber yard with drive-through. Over 20,000 products are available in store, including a wider selection of light fixtures, fashion plumbing items, floor coverings, doors and windows, and workwear. The new showroom features an extensive selection of patio furniture in addition to the new Appliance department.
"RONA Tinsco's success is built on excellent customer service and a genuine desire to meet the needs of the community. The team spared no effort to present the people of Rawdon with a store that reflects the latest trends in home improvement," said Philippe Element, Vice-President, RONA and Ace Affiliate Dealer Sales and Services. "We are proud to have devoted entrepreneurs like Bobby in our dealer-owner network and to have been partners with the Tinkler family since 2001."
A specialized offering for contractors and professionals
The RONA Tinsco store provides its professional customers—home builders as well as industrial, commercial, and institutional contractors—with a wide range of services:
A drive-through lumber yard where contractors can load their vehicles directly to save time

A dedicated Pro service desk with extended business hours

A cut shop that is also available to retail customers
To celebrate the store's grand opening, local dignitaries and Lowe's Canada representatives joined the dealer owner and the store's employees earlier today for an official board cutting ceremony.
To share the news, please use @RONARawdonTinsco (Facebook), @RONAinc (Twitter) and @RONA (LinkedIn).
About RONA
Created in 1939, RONA is a banner of Lowe's Canada, one of Canada's leading home improvement companies headquartered in Boucherville, Quebec. Spanning the entire country, its vast network of more than 400 stores includes both corporate stores and independent affiliated dealer stores. Known for its large in-store and online product selection as well as for its installation services, RONA also provides expert support and advice to its retail and pro customers for their building and renovation projects. For more information, visit rona.ca or follow us on Twitter, Facebook, and Instagram.
About Lowe's Canada
Lowe's Companies, Inc. (NYSE: LOW) is a FORTUNE® 50 home improvement company serving more than 18 million customers a week in the United States and Canada. With fiscal year 2018 sales of $71.3 billion, Lowe's and its related businesses operate or service more than 2,200 home improvement and hardware stores and employ approximately 300,000 associates. Based in Boucherville, Quebec, Lowe's Canadian business, together with its wholly owned subsidiary, RONA inc., operates or services more than 600 corporate and independent affiliate dealer stores in a number of complementary formats under different banners. These include Lowe's, RONA, Réno-Dépôt, Ace and Dick's Lumber. In Canada, the companies have more than 28,000 associates, in addition to approximately 5,000 employees in the stores of independent affiliate dealers operating under the RONA and Ace banners. For more information, visit lowescanada.ca.