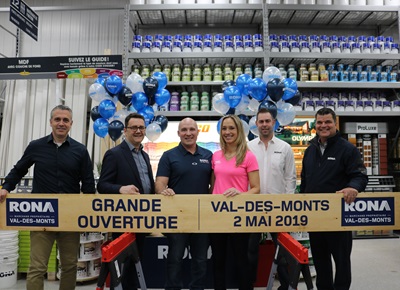 After seven months of work, RONA Val-des-Monts officially opens its new store
Boucherville, QC – May 3, 2019 – Lowe's Canada, one of Canada's leading home improvement companies, is celebrating today the grand opening of the new store of its RONA Val-des-Monts affiliated dealer, located at 1839 route du Carrefour, in Val-des-Monts, Quebec. This new store is the result of a $3.5 million investment and has created 15 new jobs beyond the 10 existing ones.
"Meeting the needs of our customers is our priority. To continue doing this, we needed to increase our retail space. For us, building a new store was the obvious choice," said Claude Bélec and Chantal Veilleux, owners of RONA Val-des-Monts. "Thanks to the help of our partners and RONA experts, we were able to make our project a reality within the set deadlines. Along with providing thousands of new products including an appliance selection in-store and online, we now offer services valued by professional and retail customers."
The new 22,000-sq.-ft. building, which is 19,000 sq. ft. bigger than the old one, boasts a 7,000-sq.-ft. indoor lumber yard and a 60,000-sq.-ft. drive-through outdoor lumber yard. This extra space allows the store to offer 10,000 additional products–for a total of 17,500 products–in order to meet the needs of contractors, construction professionals, and retail customers alike. In addition to the in-stock merchandise, consumers in the area can get thousands of products available at rona.ca through in-store pickup or parcel delivery.
"We are happy to count devoted entrepreneurs such as Claude Bélec and Chantal Veilleux in our network of affiliated dealers. With this new store, they have given themselves the ability to meet the growing needs of their customers," says Philippe Element, Vice-President, RONA & Ace, Sales and Dealer Support. "By providing exceptional customer service and enhancing their offering to professionals, they are confirming their go-to destination status for home improvement needs in their community. We are proud to have had the opportunity to be partners in their success since 2012."
In addition to the products needed to complete their projects, consumers in the area will find an enhanced service offering at the new RONA Val-des-Monts store that will make their daily lives easier. Estimate, cutting, and propane tank refill services have been added to the services usually associated with the RONA banner, such as delivery and online orders.
More services for contractors and professionals
The new RONA Val-des-Monts has an expanded offering for contractors, construction professionals, and institutional customers, which includes:
A drive-through lumber yard where contractors can load their vehicles to save time;

Personalized delivery services; and

A dedicated Customer Service desk with extended business hours to accommodate their schedules.
Grand opening events
Yesterday, local dignitaries and Lowe's Canada executives joined the store owners and employees to celebrate the grand opening with an official board cutting ceremony. The celebrations will continue until May 8 with many activities, gifts, and promotions:
Live in-store radio remote with 104.1 ÉNERGIE Gatineau-Ottawa on Saturday, May 4, from 10 a.m. to 2 p.m.;

Youppi! will be present to sign autographs and give drawings to colour on Saturday, May 4, from 9 a.m. to noon;

Delicious hot dogs will be available on site on Saturday, May 4, from 10 a.m. to 5 p.m. and all profits will go to Les Vallées figure skating club;

Local flyer with exclusive promotions from May 2 to May 8

The "4 days of giveaways" event during which the first 100 customers of each day receive a gift, such as:

a RONA bucket and 15% off the products inside on Friday, May 3;

a measuring tape on Saturday, May 4; and

a RONA Val-des-Monts shirt on Sunday, May 5.
For more information, you can refer to the local flyer on rona.ca/val-des-monts-opening. To share this news on social media, please use @RONA Val-des-Monts (Facebook).
About RONA Val-des-Monts
Founded in 2012, RONA Val-des-Monts is a building centre in full expansion. With more than 25 employees and over 17,500 products in inventory, the company provides retail customers and contractors in the area with a complete offering to meet all their home improvement and residential construction needs.
About RONA
Created in 1939, RONA is a banner of Lowe's Canada, one of Canada's leading home improvement companies headquartered in Boucherville, Quebec. Spanning the entire country, its vast network of more than 400 stores includes both corporate stores and independent affiliated dealer stores. Known for its large in-store and online product selection as well as for its installation services, RONA also provides expert support and advice to its retail and pro customers for their building and renovation projects. For more information, visit rona.ca or follow us on Twitter, Facebook, and Instagram.
About Lowe's Canada
Lowe's Companies, Inc. (NYSE: LOW) is a FORTUNE® 50 home improvement company serving more than 18 million customers a week in the United States and Canada. With fiscal year 2018 sales of $71.3 billion, Lowe's and its related businesses operate or service more than 2,200 home improvement and hardware stores and employ approximately 300,000 associates. Based in Boucherville, Quebec, Lowe's Canadian business, together with its wholly owned subsidiary, RONA inc., operates or services more than 600 corporate and independent affiliate dealer stores in a number of complementary formats under different banners. These include Lowe's, RONA, Réno-Dépôt, Ace and Dick's Lumber. In Canada, the companies have more than 28,000 associates, in addition to approximately 5,000 employees in the stores of independent affiliate dealers operating under the RONA and Ace banners. For more information, visit lowescanada.ca.