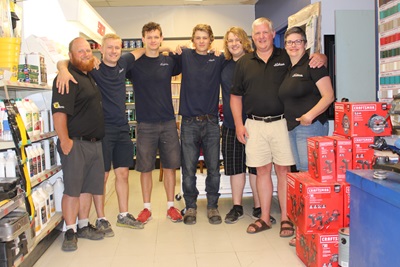 RONA VeRONA Hardware celebrates 90 years in business
The store raised over $1,100 for Frontenac Minor Hockey Association and Verona Christmas for Kids
Boucherville, QC –July 8, 2019 – Lowe's Canada, one of Canada's leading home improvement retailers, joins dealer owners Nicole and Chad Van Camp in celebrating RONA VeRONA Hardware's 90th anniversary, making it the oldest business in Verona, Ontario. To mark the occasion, customers and local dignitaries were invited on July 6 for a day of celebrations. Thanks to a fundraising BBQ and raffle, as well as the customers' generosity, Nicole, Chad, and their team presented more than $450 to Frontenac Minor Hockey Association and $650 to Verona Christmas for Kids.
The local hardware shop was founded in 1929 by Steven and Victor Merrill in what is now Nicole's Gifts, also owned by the Van Camps. Forty-two years later, entrepreneur-in-the-making Ken Harper convinced Victor Merrill to sell him the store. Ken and his wife, Evelyn, set their hearts on perpetuating the tradition of great products and personalized customer service. In 1994, to increase the retail space, they moved the business two buildings up the street to its current 10,000-sq.-ft. location at 6723 Main Street. After successfully operating the store for more than 30 years, Ken handed over the reins to Chad and Nicole Van Camp in 2004.
"My younger, retail-executive self met Ken Harper in 2001 at a local event. He told me about his retirement plans, and I saw an opportunity that I immediately seized even if, at that time, I did not know how I would make it work," said Chad Van Camp, owner of the store. "Thanks to our valued customers' trust and devoted employees' efforts, we can continue building the store history and serving the local community. We are grateful to have had the opportunity during our anniversary to give back to our customers and our youth."
"Congratulations to Chad and his team for reaching such an important milestone. For a business to be around for 90 years, it must provide stellar customer service and adapt in order to meet customers' evolving needs," said Philippe Element, Vice-President, RONA & Ace Sales and Dealer Support. "We are proud to count Chad and his team among our dealer network and to have been a partner in RONA VeRONA Hardware's success since 2006."
To share the news on social media, please use @VeronaHardwareLimited (Facebook), @RONAinc (Twitter), and @RONA (LinkedIn).
About RONA
Created in 1939, RONA is a banner of Lowe's Canada, one of Canada's leading home improvement retailers headquartered in Boucherville, Quebec. Spanning the entire country, its vast network of more than 400 stores includes both corporate stores and independent affiliated dealer stores. Known for its large in-store and online product selection as well as for its installation services, RONA also provides expert support and advice to its retail and pro customers for their building and renovation projects. For more information, visit rona.ca or follow us on Twitter, Facebook, and Instagram.
About Lowe's Canada
Lowe's Companies, Inc. (NYSE: LOW) is a FORTUNE® 50 home improvement company serving more than 18 million customers a week in the United States and Canada. With fiscal year 2018 sales of $71.3 billion, Lowe's and its related businesses operate or service more than 2,200 home improvement and hardware stores and employ approximately 300,000 associates. Based in Boucherville, Quebec, Lowe's Canadian business, together with its wholly owned subsidiary, RONA inc., operates or services more than 600 corporate and independent affiliate dealer stores in a number of complementary formats under different banners. These include Lowe's, RONA, Réno-Dépôt, Ace and Dick's Lumber. In Canada, the companies have more than 28,000 associates, in addition to approximately 5,000 employees in the stores of independent affiliate dealers operating under the RONA and Ace banners. For more information, visit lowescanada.ca.