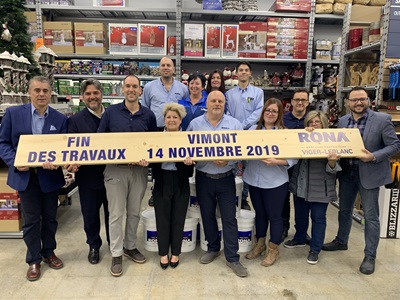 RONA Viger-Leblanc reveals its newly renovated store
Customers now have access to over 3,000 additional products
The work represents an investment of over $400,000
Boucherville, QC – November 14, 2019 – Lowe's Canada, one of Canada's leading home improvement retailers, is pleased to celebrate the unveiling of the newly renovated RONA Viger-Leblanc store by dealer-owners Serge Viger and Manon Leblanc. Located at 1889 Des Laurentides Boulevard in Laval, Quebec, this store, which has been affiliated with the RONA banner for over 45 years, underwent a complete transformation thanks to an investment of nearly $400,000.
The work, which took over six months to complete, involved renovating the sales floor to add over 3,000 products and completely redesigning the store's racking. "We were motivated by the ambition to offer our customers a larger product selection in order to continue meeting their needs and following current trends in home improvement. We benefited from the support and expertise of the RONA team to help successfully complete this monumental project," declared Mr. Viger. "With thousands of additional finishing products, including in the Plumbing department, our selection of building materials, and my dedicated team, we are truly a go-to destination in the region for home improvement projects of any size."
A history of customer service excellence
Founded over 70 years ago, the Laval-based business has evolved to meet the growing needs of local customers. The store, while going from a fruit market to a general store at the end of the 50s and then finally becoming a RONA affiliated hardware store in 1973, has changed vocations and locations without ever compromising the quality of its service. Serge Viger joined the RONA store's team over 40 years ago as a part-time employee. He worked his way up the ladder and finally acquired the business with his wife Manon in 2011. Today, he employs some 30 people.
"Serge is a true ambassador of the RONA brand. Passionate about home improvement, he spares no time or effort on propelling his business forward to better serve his customers. We are delighted to support this dealer owner and his entire team in achieving their goals and to be partners in their success," said Philippe Element, Vice-President, RONA & Ace, Sales and Dealer Support.
To share this news on social media, please use @ronainc (Facebook), @RONAinc (Twitter), @RONA (LinkedIn), and @rona.ca (Instagram).
About RONA
Created in 1939, RONA is a banner of Lowe's Canada, one of Canada's leading home improvement companies headquartered in Boucherville, Quebec. Spanning the entire country, its vast network of more than 400 stores includes both corporate stores and independent affiliated dealer stores. Known for its large in-store and online product selection as well as for its installation services, RONA also provides expert support and advice to its retail and pro customers for their building and renovation projects. For more information, visit rona.ca or follow us on Twitter, Facebook, and Instagram.
About Lowe's Canada
Lowe's Companies, Inc. (NYSE: LOW) is a FORTUNE® 50 home improvement company serving more than 18 million customers a week in the United States and Canada. With fiscal year 2018 sales of $71.3 billion, Lowe's and its related businesses operate or service more than 2,200 home improvement and hardware stores and employ approximately 300,000 associates. Based in Boucherville, Quebec, Lowe's Canadian business, together with its wholly owned subsidiary, RONA inc., operates or services more than 600 corporate and independent affiliate dealer stores in a number of complementary formats under different banners. These include Lowe's, RONA, Réno-Dépôt, Ace and Dick's Lumber. In Canada, the companies have more than 28,000 associates, in addition to approximately 5,000 employees in the stores of independent affiliate dealers operating under the RONA and Ace banners. For more information, visit lowescanada.ca.