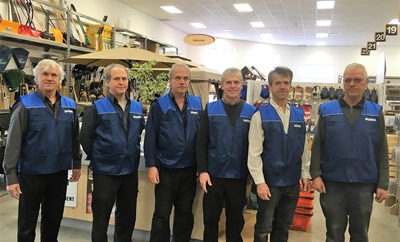 RONA welcomes three new affiliated dealer stores in the Centre-du-Québec region
The Placide Martineau family business joins the RONA network and announces the acquisition of a fourth store in Saint-Apollinaire
Boucherville, QC – June 17, 2019 – Lowe's Canada, one of Canada's leading home improvement companies, is proud to welcome the Placide Martineau family business into its RONA affiliated dealer network. Founded in 1959 by Placide Martineau, the business is now owned by the founder's six sons: Christian, François, Irené, Jean-Marc, Mario, and Michel Martineau. In addition to their decision to join RONA, they announced earlier this month the acquisition of a new point of sale in Saint-Apollinaire, which is already affiliated with the RONA banner. This brings to four the total number of stores owned by the family business in the Centre-du-Quebec region.
With the acquisition of this new store and the conversion of the three existing stores to the RONA banner, the Placide Martineau company, which is celebrating its 60th anniversary this year, is entering a new phase of development. "We are delighted to join the RONA network to further our growth and offer even more to local consumers," said Jean-Marc Martineau, President of Placide Martineau. "Our customers can expect to see new product categories as well as a wider assortment on our shelves. Thanks to the rona.ca transactional website, they will also be able to make purchases in the comfort of their own homes and take advantage of the Click and Collect service that will be offered in all our stores as of summer 2019."
"With its team's solid expertise, significant buying power, and leading e-commerce platform, RONA is the ideal partner to continue developing the business founded by our father," added François Martineau, Treasurer of Placide Martineau. "We know we can count on their dedicated staff to support us with our projects for the future, which will benefit the local community."
"We are very happy to welcome Placide Martineau to our network of RONA affiliated dealers. It's always very motivating to work with determined entrepreneurs who want to grow their business and who are always looking for new opportunities," said Philippe Element, Vice-President, RONA & Ace, Sales and Dealer Support at Lowe's Canada. "With its long tradition of entrepreneurship, the Martineau family has been serving communities in the Centre-du-Quebec region for six decades and constantly seeks to offer them the best solutions for their construction and home improvement projects. We are looking forward to working with them to support them with their business projects."
In total, the four RONA Placide Martineau stores offer close to 28,000 square feet of retail space and some 275,000 square feet of lumber-yard space. They also employ about 30 full-time workers. The conversion of the first three stores to the RONA banner will begin in the next couple of weeks and continue until winter. The stores will remain open during the work, and everything will be done to minimize the impact on customers. Once completed, Placide Martineau will offer some 80,000 products to its customers, including approximately 5,000 Online Exclusives.
Contact information for RONA Placide Martineau stores:
Saint-Apollinaire:

120 rang des Moulanges

Saint-Apollinaire:

399 Route 273

Saint-Flavien:

111 rue Principale

Villeroy:

307 rue Principale
About RONA
Created in 1939, RONA is a banner of Lowe's Canada, one of Canada's leading home improvement companies headquartered in Boucherville, Quebec. Spanning the entire country, its vast network of more than 400 stores includes both corporate stores and independent affiliated dealers stores. Known for its large in-store and online product selection as well as for its installation services, RONA also provides expert support and advice to its retail and pro customers for their building and renovation projects. For more information, visit rona.ca or follow us on Twitter, Facebook, and Instagram.
About Lowe's Canada
Lowe's Companies, Inc. (NYSE: LOW) is a FORTUNE® 50 home improvement company serving more than 18 million customers a week in the United States and Canada. With fiscal year 2018 sales of $71.3 billion, Lowe's and its related businesses operate or service more than 2,200 home improvement and hardware stores and employ approximately 300,000 associates. Based in Boucherville, Quebec, Lowe's Canadian business, together with its wholly owned subsidiary, RONA inc., operates or services more than 600 corporate and independent affiliate dealer stores in a number of complementary formats under different banners. These include Lowe's, RONA, Réno-Dépôt, Ace and Dick's Lumber. In Canada, the companies have more than 28,000 associates, in addition to approximately 5,000 employees in the stores of independent affiliate dealers operating under the RONA and Ace banners. For more information, visit lowescanada.ca.