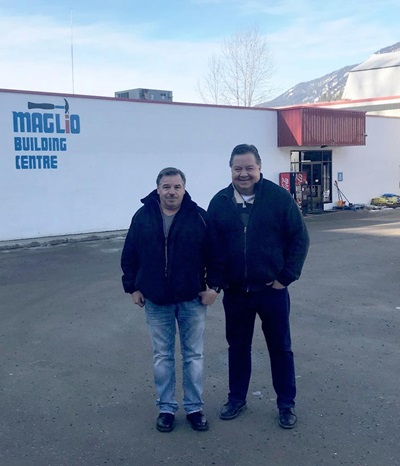 RONA welcomes two new dealer stores in the West Kootenays, British Columbia
Fraser Valley Building Supplies acquires the Maglio Building Centres in Trail and Nelson
Boucherville, QC – February 21, 2019 – RONA, a banner of Lowe's Canada, is proud to announce that its affiliated dealer Fraser Valley Building Supplies is acquiring two new stores in British Columbia. Formerly owned by Tony Maglio, along with his brother Dominic and brother in law Russ Beauchamp, the Maglio Building Centres, respectively located at 29 Government Road in Nelson, and 8274 Waneta Highway in Trail, have been serving the West Kootenays communities for over 30 years. Together, they feature approximately 50,000 sq. ft. of sales area as well as 5 acres of lumberyard to meet the needs of local builders and DIYers.
"We had been looking to grow our business in the region for some time, and meeting with Tony convinced us that these stores were the right fit for us," said Ray Cyr, President of Fraser Valley Building Supplies. "Just like our company, Maglio Building Centres is a family-owned business that has developed strong relationships with its customers and community. We are confident that these locations will be a great addition to our existing stores and will help us consolidate our position in the British Columbia market. We are excited to start working with the teams of both stores as well as with Tony, who has agreed to stay on to support us with the transition, to bring even more value and choices to local builders and DIYers."
"We are glad to have found a partner we can trust to take over our family's business and ensure its long-term success and growth," added Tony Maglio. "Ray and his associates are committed entrepreneurs who have a clear vision for the future of their company. I know they will bring outstanding service and value to our community, and I look forward to working with them to ensure a successful transition."
Over the coming months, the Nelson and Trail stores will be converted to the RONA banner and undergo renovations to enhance customers' shopping experience. In addition to the services and products already available, customers can expect to see new product categories, such as appliances, as well as the introduction of new brands, including the iconic CRAFTSMAN® tools. Overall, the new owners will be adding approximately 5,000 items to the current selection. Plans also include the launch of online shopping through the rona.ca website with Click-and-Collect and parcel delivery services, making it even easier for local home improvement enthusiasts to carry out their projects.
"At RONA, we make it our priority to support our affiliated dealers with their growth projects. We work closely together to help them reach their business goals and we are always thrilled to witness their success," mentioned Philippe Element, Vice-President, RONA & Ace, Sales and Dealer Support. "With this acquisition, Fraser Valley Building Supplies now offers its strong contractor expertise and superior shopping experience to six locations in British Columbia. I am immensely proud to work with a driven entrepreneur such as Ray and to see everything he and his team have achieved since they first joined the RONA banner in 2015."
The renovation of the Nelson and Trail stores will represent a local investment of approximately one million dollars and will lead to the creation of five to ten permanent jobs at each location. The stores will remain open during the work and customers can expect the same level of service they have been accustomed to from the teams in place.
About RONA
Created in 1939, RONA is a banner of Lowe's Canada, one of Canada's leading home improvement companies headquartered in Boucherville, Quebec. Spanning the entire country, its vast network of more than 400 stores includes both corporate stores and independent affiliated dealers stores. Known for its large in-store and online product selection as well as for its installation services, RONA also provides expert support and advice to its retail and pro customers for their building and renovation projects. For more information, visit rona.ca or follow us on Twitter, Facebook, and Instagram.
About Lowe's Canada
Lowe's Companies, Inc. (NYSE: LOW) is a FORTUNE® 50 home improvement company serving more than 18 million customers a week in the United States, Canada and Mexico. With fiscal year 2017 sales of $68.6 billion, Lowe's and its related businesses operate or service more than 2,240 home improvement and hardware stores and employ over 310,000 people. Based in Boucherville, Quebec, Lowe's Canadian business, together with its wholly owned subsidiary, RONA inc., operates or services more than 600 corporate and independent affiliate dealer stores in a number of complementary formats under different banners. These include Lowe's, RONA, Réno-Dépôt, Ace and Dick's Lumber. In Canada, the companies have more than 28,000 employees, in addition to approximately 5,000 employees in the stores of independent affiliate dealers operating under the RONA and Ace banners. For more information, visit lowescanada.ca.