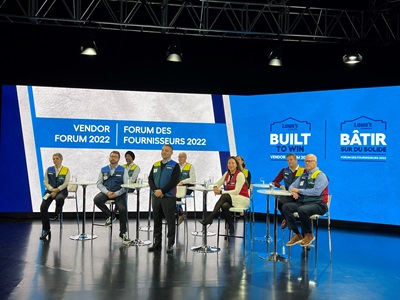 Second edition of Lowe's Canada Vendor Forum a success
Over 1,000 participants from close to 600 partner companies attended the event

EBSU

, Hoft, and Napoleon Named Vendor Partners of the Year
Boucherville, QC, December 16, 2022 – Lowe's Canada, one of Canada's leading home improvement retailers operating or servicing some 450 corporate and independent affiliated dealer stores under various banners, held a successful second edition of its Vendor Forum on December 15. Over 1,000 participants from close to 600 partner companies attended this year's event to hear about the company's strategies and priorities for 2023 and to meet leaders from the organization operating the Lowe's, RONA, and Réno-Dépôt banners.
"Our Vendor Forum was an important event to align with our vendors on our strategy and priorities to keep driving success for all our organizations in 2023," said Isabelle Laliberté, Interim Vice-President, Merchandising, at Lowe's Canada. "We shared many exciting upcoming projects that will help us continue meeting the needs of our customers while fostering open communication between our people. It was also a great opportunity for us to connect with our vendors following the announcement of the upcoming sale of our organization to Sycamore Partners. We took the time to answer their questions and discuss the many opportunities that this new chapter of our long history will bring for us all. Many thanks to our vendors for making the second edition of our Vendor Forum a success, and for their continued dedication and partnership."
Celebrating exceptional vendors
The 2022 Vendor Forum also presented the opportunity to recognize three vendors for their exceptional collaboration, creativity, agility, and product quality. These vendors spare no effort in helping us provide customers with high-quality products and an exceptional shopping experience.
Napoleon: Vendor Partner of the Year – Hardlines
"Since the very beginning, Napoleon has been very collaborative and has shown genuine interest in understanding our dealer network and its needs. Their partnership helped launch the best wall mount fireplace assortment for big box stores, resulting in impressive year-over-year sales growth. We've really appreciated their presence at our Connexia events in Quebec City and Vancouver as well as their support for our product launches this year," said Ian Cleghorn, Vice-President, Merchandising – Hardlines, at Lowe's Canada.
EBSU: Vendor Partner of the Year – Home Décor & Appliances
"EBSU's solutions-oriented attitude, strong communication and collaboration, and efficient supply chain are the cornerstones of their success. The company experienced strong sales growth during the last year, and with that, our relationship with them has only grown stronger. It has been a pleasure partnering with EBSU, and this recognition is very well-deserved," said Charles Valois, Vice-President, Merchandising – Home Décor & Appliances, at Lowe's Canada.
Hoft: Vendor of the Year – Lumber and Building Materials
"Exceptional sales growth, as well as incredible supply chain and in-store support are part of Hoft's success story. Hoft stands out with their on-demand, high-quality products and because they don't hesitate to participate in multiple events throughout the year including our various vendor funding programs, our Pro events and more. Their enthusiasm, support, and dedication to our organization are deeply appreciated," said Isabelle Laliberté, Interim Vice-President, Merchandising at Lowe's Canada.
To share this news on social media, please use @Lowe's Canada (LinkedIn) and @LowesCanadaCorp (Twitter).
About Lowe's Canada
Lowe's Companies, Inc. (NYSE: LOW) is a FORTUNE® 50 home improvement company serving approximately 19 million customer transactions a week in the United States and Canada. With fiscal year 2021 sales of over $96 billion, Lowe's and its related businesses operate or service nearly 2,200 home improvement and hardware stores and employ over 300,000 associates. Based in Boucherville, Quebec, Lowe's Canadian business, together with its wholly owned subsidiary RONA inc., operates or services some 450 corporate and independent affiliate dealer stores in a number of complementary formats under different banners, which include Lowe's, RONA, Reno-Depot, and Dick's Lumber. In Canada, they have more than 26,000 associates, in addition to approximately 5,000 employees in the stores of independent affiliate dealers operating under the RONA banner. For more information, visit lowescanada.ca.