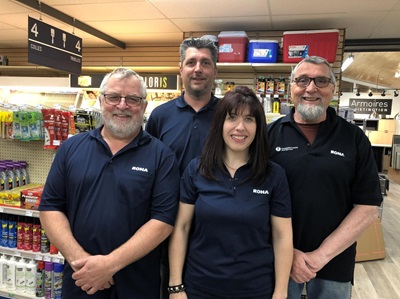 The Store Mag family-run business invests $300,000 to transform its New Richmond location into a hardware store and chooses RONA as partner
Celebrations will take place at the store on Saturday, May 18
Boucherville, QC – May 15, 2019 – Lowe's Canada, one of Canada's leading home improvement companies, is pleased to welcome the Store Mag family-run business to its RONA affiliated dealer network. Previously specialized in window coverings, flooring, and home decor, the store located at 176 Route 132 Est in New Richmond, Quebec, and owned by local entrepreneur Benoit Durand, has been completely redesigned to incorporate close to 3,000 sq. ft. of hardware retail space. The renovations were completed by businesses from the area and resulted in a local investment of $300,000.
Since its founding in 1988, the store has experienced continued growth and has adapted to better meet the changing needs of its customers. Throughout the years, Store Mag has added paint, home decor, and flooring departments to its offering, among other things, in addition to renting space to Armoires Distinction, a local business specialized in the manufacturing of kitchen cabinets. The store's transition to the RONA banner and its conversion to a hardware store mark a new stage in the family business's history.
"I am thrilled to offer my customers a go-to destination for their projects, helping them make their home improvement plans a reality," explained Benoit Durand, the store's owner. "In the past, they would buy their specialized products from us and then visit a different store to purchase complementary items such as plumbing and ventilation supplies. Today, homeowners who consult a kitchen designer at the Armoires Distinction counter, for example, can also find their faucet and range hood under the same roof."
RONA New Richmond's customers now have access to some 10,000 hardware products in store, including a wide selection of tools and accessories from the iconic CRAFTSMAN® brand. The store will also soon offer the Click & Collect service, which will allow local homeowners to choose from thousands of products on rona.ca before picking up their order in store. In addition, RONA New Richmond will continue offering the various services its customers have valued for over thirty years, which include repairing blinds.
"It's a pleasure to welcome the Store Mag team to our RONA affiliated dealer network," said Philippe Element, Vice-President, RONA & Ace Sales and Dealer Support. "Entrepreneurship at its best! A determined owner who daringly completed an ambitious project to satisfy a need in his community. Today, we are laying the foundation of what will undoubtedly be a fruitful collaboration. We are eager to work with him to help make his future business projects a reality."
To celebrate this new stage of the business's development, the RONA New Richmond team will hold an official board cutting ceremony tonight in the company of local dignitaries and a regional radio station. Customers are invited to visit the store on Saturday, May 18 for a day of celebration during which gifts will be given to the first 200 customers.
About RONA
Created in 1939, RONA is a banner of Lowe's Canada, one of Canada's leading home improvement companies headquartered in Boucherville, Quebec. Spanning the entire country, its vast network of more than 400 stores includes both corporate stores and independent affiliated dealers stores. Known for its large in-store and online product selection as well as for its installation services, RONA also provides expert support and advice to its retail and pro customers for their building and renovation projects. For more information, visit rona.ca or follow us on Twitter, Facebook, and Instagram.
About Lowe's Canada
Lowe's Companies, Inc. (NYSE: LOW) is a FORTUNE

®

50 home improvement company serving more than 18 million customers a week in the United States and Canada. With fiscal year 2018 sales of $71.3 billion, Lowe's and its related businesses operate or service more than 2,200 home improvement and hardware stores and employ

approximately 300,000 associates

. Based in Boucherville, Quebec, Lowe's Canadian business, together with its wholly owned subsidiary, RONA inc., operates or services more than 600 corporate and independent affiliate dealer stores in a number of complementary formats under different banners. These include Lowe's, RONA, Réno-Dépôt, Ace and Dick's Lumber. In Canada, the companies have more than 28,000 associates, in addition to approximately 5,000 employees in the stores of independent affiliate dealers operating under the RONA and Ace banners. For more information, visit
lowescanada.ca
.