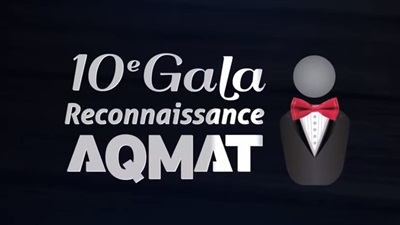 Stores and employees of the Lowe's Canada network honoured at AQMAT's 10th Gala Reconnaissance
AQMAT's Gala Reconnaissance, held last Saturday, rewarded 46 industry players for their achievements this past year

Two employees from RONA Forget and one from RONA Centre de rénovation OKA were presented with the Ascension Award

RONA Major & Major won the Spécialité Award

The Dagenais family, who owns RONA H. Dagenais & Fils,

received the Patrimoine Award

RONA Ferlac

won the Perspective Award
Boucherville, QC – March 21, 2022 – Lowe's Canada, one of Canada's leading home improvement retailers operating or servicing some 450 corporate and affiliated stores under different banners, congratulates the winners of the 10th edition of the AQMAT's Gala Reconnaissance, which took place virtually on Saturday, March 19. This annual event held by the Quebec Hardware and Building Materials Association recognizes organizations and employees of the home improvement industry across the province for their achievements. This year, members of our network left with six awards:
Ascension Award (3): Martin St-Amour, Andréanne Cloutier from RONA Forget and Samuel Brière from RONA Centre de rénovation OKA

Spécialité Award: RONA Major & Major

Patrimoine Award: the Dagenais family, who owns

RONA H. Dagenais & Fils

Perspective Award:

RONA Ferlac
"I am extremely proud of all our winners from the Lowe's Canada network," said Tony Cioffi, President of Lowe's Canada. "These past two years have been anything but easy, but we were fortunate to count on dedicated and passionate associates and dealers. They spared no efforts to drive the organization forward so that we could keep improving how we serve customers day after day. Saturday night's awards speak volumes about the hard work our people put in to succeed despite the challenges brought on by the pandemic. I am privileged to lead such an outstanding group of people."
To mark the 10th anniversary of the event, the AQMAT wanted to do things differently and recognize even more key actors of our sector that contributed to creating a thriving home improvement industry in Quebec. For each award, the association selected several winners, honouring a total of 46 stores, vendors and employees.
About Lowe's Canada
Lowe's Companies, Inc. (NYSE: LOW) is a FORTUNE® 50 home improvement company serving approximately 19 million customer transactions a week in the United States and Canada. With fiscal year 2021 sales of over $96 billion, Lowe's and its related businesses operate or service nearly 2,200 home improvement and hardware stores and employ over 300,000 associates. Based in Boucherville, Quebec, Lowe's Canadian business, together with its wholly owned subsidiary RONA inc., operates or services some 450 corporate and independent affiliate dealer stores in a number of complementary formats under different banners, which include Lowe's, RONA, Reno-Depot, and Dick's Lumber. In Canada, they have more than 26,000 associates, in addition to approximately 5,000 employees in the stores of independent affiliate dealers operating under the RONA banner. For more information, visit lowescanada.ca.