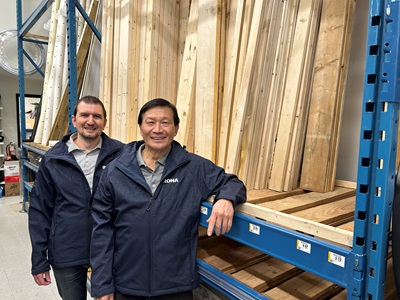 The Very First Urban RONA Store Opens in Western Canada
RONA Walnut Grove is setting up a new Kitchen and Bathroom showroom
Boucherville, Québec, May 30, 2023 – RONA inc., one of Canada's leading home improvement retailers operating or servicing some 450 corporate and affiliated stores under different banners, is happy to welcome the T & T Hardware Group owners Al Tsuchyia and Michael Trentalance in its affiliated dealer network. The two former RONA employees, now owners, are announcing a 2,200-square-foot expansion of their hardware store, located in a shopping centre in downtown Walnut Grove. A wide selection of bathroom and kitchen products will be offered in a new showroom space, including Appliances, Fashion Plumbing, Lighting, Kitchen Cabinets, and Flooring products.
"We are proud to innovate and open the first-ever RONA urban-style store in the highly competitive Vancouver, British Columbia market,'' says Al, co-owner of the store he and his partner Michael acquired in 2019. "We know really well the strength of the RONA brand and its efficient distribution network. RONA has a diverse retail offering, so it's the perfect banner to bring our vision to life," says Michael.
Now with a 5,500-square-foot selling space, the RONA Walnut Grove store will offer a wider range of building materials and plumbing products, such as underground sprinklers or irrigation systems. In total, this expansion will allow to add 500 to 650 new SKUs. Eco-friendly products will be available at the store, as well as battery and light bulb recycling service.
''Al and Michael did an outstanding job when they were employees at RONA. Now they are building on their dream and putting their extraordinary business acumen to work. They invested time and effort to bring this project to life. We are delighted to count them among our RONA affiliated dealers and to support them with their future growth projects," said Philippe Element, Vice-President, RONA Dealer Sales and Support.
To share this news on social media, please use @RONAcarrieres.careers (Facebook), @RONA (LinkedIn), and @RONAinc (Twitter).
About RONA inc.
RONA inc. is one of Canada's leading home improvement retailers headquartered in Boucherville, Québec. The RONA inc. network operates or services some 450 corporate and affiliated dealer stores under the Lowe's, RONA, Réno-Dépôt, and Dick's Lumber banners. With a long and rich history, RONA inc. supports Canadians in their home improvement and construction projects since 1939. To achieve this, the company relies on a team of 26,000 employees, to whom it strives to provide an inclusive workplace where everyone is invited to contribute. RONA inc. has been one of the Montréal region's Top Employers since 2021. As a result of its ongoing efforts in sustainable development, the company was also awarded the Stratégie de développement durable Mercure award in 2022 and is recognized as one of Canada's Greenest Employers. To learn more about the company, visit the website www.ronainc.ca.