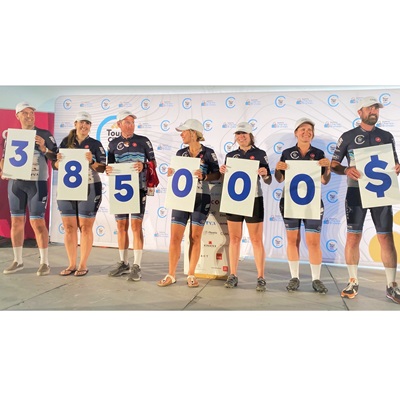 Lowe's Canada presents $385,000 to the Fondation Charles-Bruneau at the Tour CIBC Charles-Bruneau cycling event
Lowe's Canada's associates, affiliated RONA dealers, and vendor partners cycled and collected donations for Québec's largest pediatric cancer research fundraising event
Boucherville, QC – July 8, 2022 – Lowe's Canada, one of Canada's leading home improvement retailers operating or servicing some 450 corporate and affiliated stores under different banners, proudly presented $385,000 to the Fondation Charles-Bruneau at the Tour CIBC Charles-Bruneau cycling event. From July 2 to 8, the Lowe's Canada team of nearly 70 cyclists including associates, affiliated RONA dealers, and vendor partners completed various treks ranging from 50 to 900 kilometres. The cycling event was the culmination of their fundraising efforts to support the Fondation's mission and help give children with cancer the best chances of recovery by funding pediatric oncology research and development projects.
"Community healthcare is a cause we care about deeply," said Mélanie Lussier, Director, External Communications and Sustainable Development at Lowe's Canada. "Since 2015, this fundraising campaign has enabled us to help build a healthy future for the 300 Québec children who are diagnosed with cancer every year. Thank you to our fundraisers, partners, and donors for your continued support for this worthy cause."
In the last seven years, the Lowe's Canada teams have raised over $3,7 millions for the Fondation through fundraising efforts and corporate donations. As one of the main partners of the event, Lowe's Canada enhanced its support once again this year by becoming one of the Tour's Diamond sponsors.
"The Charles-Bruneau Foundation is grateful to be able to count on the great Lowe's Canada team as part of the Tour CIBC Charles-Bruneau. For several months now, we have been able to meet with cyclists who are committed and motivated to raise more and more funds for the cause. Thank you to the associates, dealers and partners of Lowe's Canada for contributing to the achievement of our mission, which is to give all children with cancer the best chances of recovery," said Rébecca Dumont, Chief Executive of the Charles-Bruneau Foundation."
To share this news on social media, please use @LowesCanadaCorp (Facebook), @Lowe's Canada (LinkedIn) and @LowesCanadaCorp (Twitter).
About the Charles-Bruneau Foundation
The Charles-Bruneau Foundation has just celebrated 30 years of involvement in the field of pediatric cancer. Since its inception, the foundation's mission has been to give all children with cancer improved chances of recovery. Following investments of more than $40 million, specialized Charles-Bruneau units have been set up at the four university hospitals in Quebec that treat children with cancer: CHU Sainte-Justine, the Montreal Children's Hospital, CIUSSS de l'Estrie-CHUS and CHU de Québec-Université Laval. With the financial commitments announced in 2021, the investments in research will total $55 million since the foundation's creation, making it the leading funder of pediatric hemato-oncology research in Quebec.
About Lowe's Canada
Lowe's Companies, Inc. (NYSE: LOW) is a FORTUNE® 50 home improvement company serving approximately 19 million customer transactions a week in the United States and Canada. With fiscal year 2021 sales of over $96 billion, Lowe's and its related businesses operate or service nearly 2,200 home improvement and hardware stores and employ over 300,000 associates. Based in Boucherville, Quebec, Lowe's Canadian business, together with its wholly owned subsidiary RONA inc., operates or services some 450 corporate and independent affiliate dealer stores in a number of complementary formats under different banners, which include Lowe's, RONA, Reno-Depot, and Dick's Lumber. In Canada, they have more than 26,000 associates, in addition to approximately 5,000 employees in the stores of independent affiliate dealers operating under the RONA banner. For more information, visit lowescanada.ca.