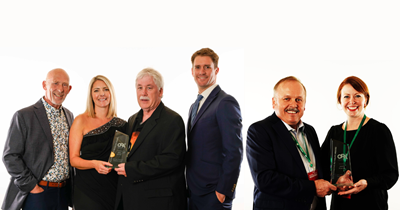 Two Stores of the Lowe's Canada Network Honoured at the Hardlines Outstanding Retailer Awards
From left to right, Jake den Hollander, general manager, Doidge Home Centres, Sarah Hounslow, BMF, sponsor of the Marc Robichaud Community Award, Jeff Hill, store manager, RONA Fort Erie, Andrew Doidge, vice president, Doidge Home Centres, Angelo Tzogas, store manager, Lowe's Pickering and Beth Casson, National Hardware Show, sponsor of the Best Larger Surface Retailer Award.
RONA Fort Erie wins the Marc Robichaud Community Leader award

Lowe's Pickering is named Best Large Surface Retailer (over 65,000 sq. ft.)
Boucherville, QC – October 19, 2022 – Lowe's Canada, one of Canada's leading home improvement retailers operating or servicing over 450 corporate and affiliated stores under various banners, celebrates the recognitionreceived by two of its Ontario stores at last night's 2022 Outstanding Retailer Awards (ORAs) gala. Organized by Hardlines, a home improvement retail industry news and information service, this competition recognizes the best players in the home improvement and hardware industries in Canada. This year, RONA Fort Erie won the Marc Robichaud Community Leader award and Lowe's Pickering was named Best Large Surface Retailer.
"Standing out in today's market, especially in a changing economic environment, is a challenge. These stores made a difference for consumers through outstanding customer service and exemplary community involvement, among other things," said Tony Cioffi, President at Lowe's Canada. "I would like to thank all our associates at RONA Fort Erie and Lowe's Pickering and congratulate them on receiving these recognitions from our industry."
RONA Fort Erie: Marc Robichaud Community Leader award
With a history spanning over 36 years, the RONA Fort Erie affiliated store is actively contributing to building strong communities, one of Lowe's Canada's top priorities. The store's associates regularly host fundraising campaigns and several charity events in support of local Fort Erie charities. Store Manager, Jeff Hill, and his entire team have developed a strong relationship with the community they serve.
"This award recognizes a retailer's involvement in their local community, and the team at RONA Fort Erie displayed this in spades. The store gives, without hesitation, to a range of good causes, including Heart & Stroke Foundation, Big Brothers Big Sisters, and Meals on Wheels. But the attitude behind that giving reflects a sense of selflessness and caring that stood out prominently for the judges," says Michael McLarney, President, Hardlines Inc.
"At RONA Fort Erie, being helpful is part of our DNA, and we want to make a real difference in the lives of people in our community. We take a lot of pride in providing added value to our customers with our service in the store, but also by being involved in different community-related activities because 'We love Fort Erie'," says Jeff Hill, Store Manager. "It's our way of telling people in our community that they matter to us."
Lowe's Pickering: Best Large Surface Retailer (over 65,000 sq. ft.) award

The Lowe's Pickering store opened in October 2010 and features 104,000 sq. ft. of retail and contractor space, including a 10,000-sq.-ft. Garden Centre. The store employs over 70 associates who are committed to providing the best possible experience from the moment customers walk into the store.
"Store Manager, Angelo Tzogas, is passionate about the store and its staff, which makes him a natural leader. He and his team have proven that a big box store can make a difference at a very personal level, both with customers and with associates," says Michael McLarney, President, Hardlines Inc.
"Our number one goal is to make Lowe's Pickering the best home-improvement store for customers and the best place to work for our associates. Here, customer service is our top priority," said Angelo Tzogas, Store Manager. "We are all very proud of our success and honoured to receive this recognition."
To share this news on social media, please use @Lowe's Canada (LinkedIn), @LowesCanadaCorp (Twitter), or @LowesCanadaCorp (Facebook).
About the Outstanding Retailer Awards
Launched in 1992, the Hardlines Outstanding Retailer Awards are the industry's only national awards program dedicated to celebrating the achievements of hardware and building supply dealers in Canada. In its 30-year history, the program has honoured more than 150 retailers.
About Hardlines
Celebrating its 27th year, Hardlines Inc. is a leading authority on the retail home improvement industry. Hardlines' products and services include its weekly Hardlines electronic newsletter; its print magazine, Hardlines Home Improvement Quarterly; a comprehensive and informative website; Hardlines Dealer News for retail dealers and managers; a free daily news service; and the annual Hardlines Conference. For more information, please contact Michael McLarney, President of Hardlines Inc. by phone at 416-489-3396 or by email at [email protected].
About Lowe's Canada
Lowe's Companies, Inc. (NYSE: LOW) is a FORTUNE® 50 home improvement company serving approximately 19 million customer transactions a week in the United States and Canada. With fiscal year 2021 sales of over $96 billion, Lowe's and its related businesses operate or service nearly 2,200 home improvement and hardware stores and employ over 300,000 associates. Based in Boucherville, Quebec, Lowe's Canadian business, together with its wholly owned subsidiary RONA inc., operates or services some 450 corporate and independent affiliate dealer stores in a number of complementary formats under different banners, which include Lowe's, RONA, Reno-Depot, and Dick's Lumber. In Canada, they have more than 26,000 associates, in addition to approximately 5,000 employees in the stores of independent affiliate dealers operating under the RONA banner. For more information, visit lowescanada.ca.