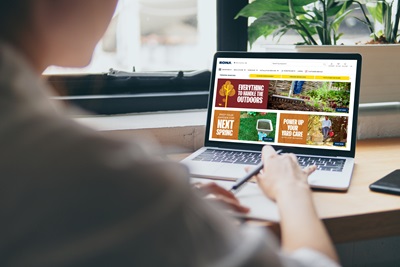 New self-serve functions for a better online shopping experience
When our customers turned in numbers to our websites for their home improvement needs during the pandemic, we launched three new web functions to provide them more control over their web orders.
Back-in-Stock Notifications
See an item you want that is temporarily out of stock? Since we launched our back-in-stock notification function, you can now be notified once the item becomes available. Simply sign up to receive an email notification and you'll be the first to know once when the item is back.
As online shopping became the norm, our IT experts found agile ways to roll out optimizations such as this one. This function seems simple enough, right? Wrong! To make it work with inventory system quirks on rona.ca, lowes.ca and renodepot.com, it took a lot of IT skills and the collaboration of many teams across our business. But once again, our teams rose to the challenge in a short amount of time. Kudos!
Back-in-stock notification
The numbers speak for themselves: following the launch, we received tens of thousands of visits on our websites as a result of the "Notify Me" emails. That translates to sales and happy customers.
"Back-in-stock touches multiple aspects of the purchase experience. Team members across several areas of our business including Marketing and Product Management worked together—virtually—to quickly bring this to life during the lockdown. It wasn't easy, but our customers appreciated it. That means it was worth it!"
- Allison Marcus, Senior Product Manager
Self-Serve Returns
Rolled out last May for RONA and Réno-Dépôt, and in July for Lowe's, this easy process is a definite plus for our customers. In addition, it relieves pressure on our Call Centre and saves our customers' time without hassle.
Self-serve cancellation
The self-serve cancellation feature is conveniently included in the order confirmation email. Since it became available, we've had customers use it on RONA, Lowe's and Réno-Dépôt websites.
Self-Serve Returns
We've all experienced this situation: we browse online for a product (say a gold faucet), it's what we've been looking for, we're so excited, we buy it without measuring our space and… it doesn't fit. We'll our IT, E-Commerce and Marketing teams have our backs.
We just rolled out a super-simple process on RONA, Lowe's and Réno-Dépôt's websites to return products without setting foot in any store or having to call customer service. You just need to follow the steps from your order email, print the label, and drop your box at Purolator. Voilà!
What's impressive is how our IT experts worked together with other teams to find a simple solution to a complex problem. They were driven by their willingness to facilitate this last step in the customer journey and ease the workload of their customer-facing colleagues. They once again demonstrated that with talent, creativity, and teamwork we can move mountains.
Self-Serve Item Cancellations
When our call centre team received high call volumes during the pandemic to cancel orders, we knew there was an opportunity to make everyone's lives a bit easier. With self-serve item cancellations, individual items or entire orders can be cancelled in the blink of an eye as long as the order has not been processed by the store yet.
This project is another testament of how our IT team helps improve the quality of the service we offer. Our customer service team and store associates now have more time to focus on value-add tasks that make our customers happy. It's been a positive experience all around!
Because time is a very valuable commodity, you'll be seeing more flexible self-serve options on our RONA, Lowe's and Réno-Dépôt websites. Stay tuned for more info!
If you think IT projects like these are fun and want to work with one of Montreal's Top Employer, we could be perfect for each other. Check out our career opportunities!