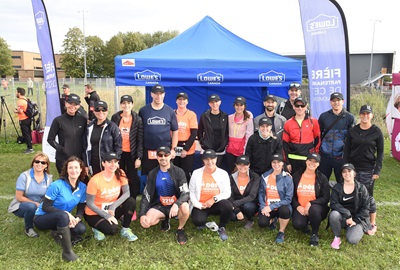 $150,000 to help offer highly specialized care to residents from the Montérégie region
Lowe's Canada supports the Fondation Hôpital Charles-LeMoyne's major campaign

For a second consecutive year, Lowe's Canada also contributes to fundraising activities benefiting the Foundation
Boucherville, QC – September 30, 2019 – Lowe's Canada, one of Canada's leading home improvement retailers operating or servicing more than 600 corporate and affiliated stores under different banners, is committed to supporting the Fondation Hôpital Charles-LeMoyne's 2017-2021 major campaign with a $150,000 donation over five years. This amount will be used to finance four large-scale projects that will allow the hospital to enhance the quality and quantity of care offered to some 1.5 million residents in the Montérégie region.
"We are all affected, either directly or indirectly, by illness. During these difficult times, access to first-class medical services close to home becomes a source of comfort," declared Sylvain Prud'homme, President of Lowe's Canada. "As one of the largest employers on the South Shore, we wanted to take part in the regional mobilization movement to help the Fondation Hôpital Charles-LeMoyne complete its meaningful projects. My colleagues and I are delighted to support the excellent care offered at the hospital, which benefits the Montérégie community, including many of our employees and their families," added Mr. Prud'Homme.
"The Fondation Hôpital Charles-LeMoyne is honoured to count on the support and generosity of a major partner like Lowe's Canada. For a foundation to guarantee the development of its hospital, it takes contributors who are willing to make a real difference and to become part of its DNA. This major campaign marks a turning point in the way we raise funds and brings together devoted individuals who are dedicated to promoting, throughout their network, the importance of Hôpital Charles-LeMoyne⁠—the only university-affiliated hospital in the Montérégie region. With its continued support, Lowe's Canada shares this common vision of a hospital that offers, within close distance, care of the highest standards," mentioned Nathalie Boudreau, General Manager of the Foundation.
For the second consecutive year, Lowe's Canada also participated Saturday in the Foundation's annual sports challenge and fundraising event (Défi des générations contre le cancer) benefiting the Centre intégré de cancérologie de la Montérégie, which offers cancer care and services in the hospital. In addition to financially contributing to the event, Lowe's Canada was represented by a team of runners, of varying levels, who took part in different courses starting at Poly-Aréna park in Brossard. As part of its partnership with the Foundation, Lowe's Canada has also been presenting the Foundation's annual spring charity ball, the Bal des 1001 Nuits, for the past two years.
To share this news on social media, please use @Lowe's Canada (LinkedIn) and @LowesCanadaCorp (Twitter).
About the Fondation Hôpital Charles-LeMoyne
The Fondation Hôpital Charles-LeMoyne's mission is to contribute to the completion of visionary projects that enhance practices for the benefit of patients and their families. As an agent of change rooted in its community, the foundation participates—thanks to the generosity of its donors—in achieving the highest standards to offer tomorrow's medical excellence today.
About Lowe's Canada
Lowe's Companies, Inc. (NYSE: LOW) is a FORTUNE® 50 home improvement company serving more than 18 million customers a week in the United States and Canada. With fiscal year 2018 sales of $71.3 billion, Lowe's and its related businesses operate or service more than 2,200 home improvement and hardware stores and employ approximately 300,000 associates. Based in Boucherville, Quebec, Lowe's Canadian business, together with its wholly owned subsidiary, RONA inc., operates or services more than 600 corporate and independent affiliate dealer stores in a number of complementary formats under different banners. These include Lowe's, RONA, Réno-Dépôt, Ace and Dick's Lumber. In Canada, the companies have more than 28,000 associates, in addition to approximately 5,000 employees in the stores of independent affiliate dealers operating under the RONA and Ace banners. For more information, visit lowescanada.ca.