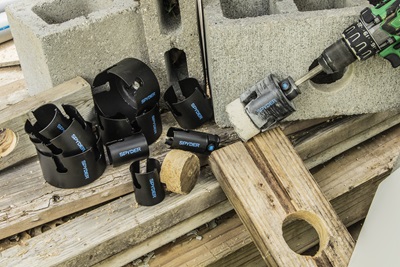 Expanded offering for Pros with Spyder exclusive partnership
Pro customers have access to even more tailored offers through Lowe's Canada's VIPpro membership
Boucherville, QC─July 15, 2021─Lowe's Canada, one of Canada's leading home improvement retailers operating or servicing some 470 corporate and affiliated stores under different banners, partners with Spyder® to expand its offering with top-of-the-line tool accessories to its Pro customers. Just introduced in Canada, the Spyder circular saw blades, jig saw blades, hole saws, StingerTM spade bits, and auger bits are exclusively available in Canadian building centres and big box stores at Lowe's, RONA, and Reno-Depot banners.
"At Lowe's Canada, we are continuously looking for the right products to meet our customers' needs. By building strong partnerships with trusted brands like Spyder, we can offer our Pro customers the long-lasting product they need to get the job done better and faster. As a result, we are pleased to introduce a new assortment of Spyder drill bits, blades, and hole saws available in-store and online," said Chris West, Senior Vice-President, Merchandising.
Spyder fosters innovation to supply blade attachments that are efficient, durable, and effective. Many of their high-performance accessories last up to 100 times longer and cut up to 40 times faster than comparable products. To see the complete line of Spyder products and their many advantages, visit lowes.ca, rona.ca, or renodepot.com.
Reward Program Just for Pros
Through the VIPpro program, Pro customers have access to an improved and integrated purchasing experience with the same discounts and advantages throughout Lowe's Canada's wide store network. The related VIPpro app was developed to make it easier for the members to access their information and benefits, and view their purchasing data, special offers, and profile information on their mobile device at all times. The app has now been upgraded in-house to enhance the overall experience as well as to roll out additional exclusive features to VIPpro members.
"With this program, our Pro customers can shop in any of our Lowe's, RONA, or Reno-Depot corporate and participating dealer stores and benefit from the same advantages of using a single VIPpro account across the country," added Tony Cioffi, Senior Vice-President, Stores. "Our commitment is to keep providing added value and a hassle-free purchasing experience while expanding our product and service offerings tailored to our Pro customer needs, thus continuing to be a destination of choice for professionals across the country."
To get more information on the VIPpro program and how it provides added value to Pro customers, visit https://vip-pro.ca/en-ca. To share this news on social media, please use @Lowe's Canada (LinkedIn) and @LowesCanadaCorp (Twitter).
About Lowe's Canada
Lowe's Companies, Inc. (NYSE: LOW) is a FORTUNE® 50 home improvement company serving approximately 20 million customers a week in the United States and Canada. With fiscal year 2020 sales of nearly $90 billion, Lowe's and its related businesses operate or service more than 2,200 home improvement and hardware stores and employ over 300,000 associates. Based in Boucherville, Quebec, Lowe's Canadian business, together with its wholly owned subsidiary RONA inc., operates or services some 470 corporate and independent affiliate dealer stores in a number of complementary formats under different banners, which include Lowe's, RONA, Reno-Depot, and Dick's Lumber. In Canada, they have more than 26,000 associates, in addition to approximately 5,000 employees in the stores of independent affiliate dealers operating under the RONA banner. For more information, visit lowescanada.ca.