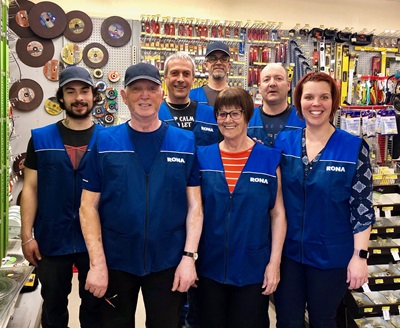 Family-owned Quincaillerie J.M. Rioux chooses the RONA banner to further its growth and enhance its customer offering
Boucherville, QC – May 6, 2019 – Lowe's Canada, one of Canada's leading home improvement companies, is proud to welcome Quincaillerie J.M. Rioux to its RONA affiliated dealer network. Located at 29 2e avenue in Forestville, Quebec, the store has been offering home improvement products and building materials to local consumers for over 30 years. It is known for its wide selection of plumbing and electrical products as well as specialized cutting services for materials such as glass and mirror.
Founded in 1986 by Jean-Marie and Denise Rioux, the family business is now operated by the daughter of the founders and her spouse, Marie-Claude Rioux and David Martel, who have chosen to partner with RONA for the next phase of the hardware store's development. "After 30 years in business, we've managed to build great relationships with our customers and the local community. We're known for our excellent customer service and our consistently competitive prices," explained Ms. Rioux. "What we want for the coming years is to work with a partner that will enable us to provide our customers with an enhanced offering. This is why we've chosen to join the RONA banner, which offers us unparalleled support and programs to help us better meet our customers' needs."
"RONA gives us access to dedicated experts who are committed to helping us achieve our business plans. As entrepreneurs, it's comforting to feel that we have a strong team behind us," added Mr. Martel. "We're now in an excellent position to provide added value to our customers, in particular through the strong rona.ca e-commerce platform, which local consumers can use to shop from the comfort of their home at all times before picking up their purchases in store."
In addition to having access to a transactional website featuring several thousand products, local DIYers as well as home improvement and construction professionals can look forward to finding an expanded product selection and new product categories in store, including tools from the iconic CRAFTSMAN® brand. They will also have access to the AIR MILES Reward Program®, through which they can earn points on all eligible purchases, as well as the RONAdvantages program to help them carry out their major projects.
"We are delighted to welcome Quincaillerie J.M. Rioux to the RONA family," said Philippe Element, Vice-President, RONA & Ace Sales and Dealer Support. "It is very rewarding to work with dealers like Marie-Claude and David, who are always on the lookout for new opportunities and have a clear vision of where they want to take their business. We are thrilled to work with them and help them achieve the goals they've set for themselves."
With a surface area of 3,500 sq. ft., Quincaillerie RONA J.M. Rioux will be redesigned in the coming months to improve the customer experience and increase product selection in store. The store will remain open during the work, and the owners will take every measure to minimize the impact on customers. Once completed, the store redesign will lead to the creation of two additional jobs.
About RONA
Created in 1939, RONA is a banner of Lowe's Canada, one of Canada's leading home improvement companies headquartered in Boucherville, Quebec. Spanning the entire country, its vast network of more than 400 stores includes both corporate stores and independent affiliated dealers stores. Known for its large in-store and online product selection as well as for its installation services, RONA also provides expert support and advice to its retail and pro customers for their building and renovation projects. For more information, visit rona.ca or follow us on Twitter, Facebook, and Instagram.
About Lowe's Canada
Lowe's Companies, Inc. (NYSE: LOW) is a FORTUNE® 50 home improvement company serving more than 18 million customers a week in the United States and Canada. With fiscal year 2018 sales of $71.3 billion, Lowe's and its related businesses operate or service more than 2,200 home improvement and hardware stores and employ approximately 300,000 associates. Based in Boucherville, Quebec, Lowe's Canadian business, together with its wholly owned subsidiary, RONA inc., operates or services more than 600 corporate and independent affiliate dealer stores in a number of complementary formats under different banners. These include Lowe's, RONA, Réno-Dépôt, Ace and Dick's Lumber. In Canada, the companies have more than 28,000 associates, in addition to approximately 5,000 employees in the stores of independent affiliate dealers operating under the RONA and Ace banners. For more information, visit lowescanada.ca.