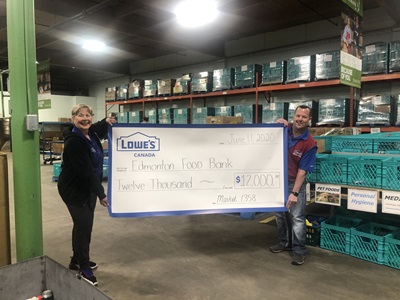 Calgary and Edmonton's Lowe's and RONA corporate stores come together to support their local food bank and children's hospital
Lowe's and RONA recently presented a total of $23,000 to the Alberta Children's Hospital Foundation and Edmonton's Food Bank
Boucherville, QC – June 22, 2020 – To help their local children's hospital and food bank cope with the challenges brought on by the COVID-19 pandemic, the 23 Lowe's and RONA corporate stores in Calgary and Edmonton came together to present the Alberta Children's Hospital Foundation and Edmonton's Food Bank with a donation of $11,000 and $12,000, respectively. The funds will help these organizations provide medical and food relief to local residents impacted by the current crisis.
Supporting the work of frontline heroes: $11,000 for the Alberta Children's Hospital Foundation
"The current health crisis has put a great amount of stress on the nation's hospitals and healthcare workers. We wanted to do our part to support the work of our frontline heroes who spare no efforts to stop the spread of the virus and care for those who have been infected," explained Steve Leger, District Manager for Lowe's Canada. "Through the KidSIM Patient Simulation Program and Special Children's Fund, the Alberta Children's Hospital Foundation will be able to provide essential training to its teams as well as much-needed relief to families that have been impacted by the pandemic."
"We are so grateful to Lowe's Canada for generously helping to ensure that the very best tools and treatments are available for kids who rely on care from the Alberta Children's Hospital," said Meghan Kociuba, Director, CMN and Partnerships, Community Initiatives and Events at the Alberta Children's Hospital Foundation. "During these challenging times, it's heartwarming to be supported by such selfless people in our community who truly wish to make life better for children and families."
Offering food relief to Edmonton's residents: $12,000 for Edmonton's Food Bank
As the COVID-19 pandemic continues to evolve throughout the country, numerous families, faced with a loss of income, are turning to food banks to put food on the table. "Supporting our communities is part of our DNA at Lowe's Canada," added Ron Tremel, District Manager for Lowe's Canada. "As we saw the need for emergency food aid increase, we felt it was important for us to help our local Food Bank deliver food to local residents dealing with food insecurity."
"Edmonton's Food Bank is here all year and we continue to respond to the changing community needs during COVID-19. The current situation and unemployment levels are just the beginning of our marathon that will last months," said Marjorie Bencz CM, Executive Director of Edmonton's Food Bank. "We are grateful to count on generous donors such as Lowe's Canada to help us meet the current community need and moving forward during these unprecedented times."
These two donations were made possible thanks to the philanthropic investment of $1,000,000 that was announced by Lowe's Canada on April 14 to support its associates and communities affected by the COVID-19 pandemic. The company has committed to presenting a total of $241,000 to allow Lowe's, RONA, Reno-Depot, and Dick's Lumber corporate stores across the country to support, either in cash or in kind, initiatives to meet the specific needs of the communities within their region.
To share this news on social media, please use @Lowe's Canada, @Alberta Children's Hospital Foundation, and @Edmonton's Food Bank (LinkedIn), as well as @LowesCanadaCorp, @ACHFKids, and @yegfoodbank (Twitter).
About Alberta Children's Hospital Foundation
Through the generosity of donors, the Foundation provides funding for innovative programs, state-of-the-art equipment, advanced medical training and internationally-recognized pediatric research. The Alberta Children's Hospital Foundation is a founding partner of the Alberta Children's Hospital Research Institute, as well as the primary funder. www.childrenshospital.ab.ca.
About the Special Children's Fund
During this difficult time when - for families at the Alberta Children's Hospital - health and financial crises collide, the Special Children's Fund provides much-need relief to those who require necessities such as meals, transportation, prescription medications, medical supplies and specialized equipment.
About KidSIM
Like flight simulation for pilots, high-tech human patient simulation is an increasingly vital part of training medical professionals for potentially lethal emergencies. Through KidSIM, Canada's first and largest hospital-based pediatric simulation lab, hospital experts have helped thousands of doctors, nurses, surgeons and residents sharpen their skills in treating children who require life-saving care. Today, the KidSIM team has been called into action to help take the hospital into uncharted territory and is reinventing the way care is delivered.
About Edmonton's Food Bank
Edmonton's Food Bank provides food to over 20,000 people through our hamper programs every month. Of those receiving food through our hamper programs, approximately 40% are children under the age of 18. Edmonton's Food Bank also provides food for between 375,000 and 450,000 meals and snacks through over 250 agencies, churches, schools and food depots monthly. Edmonton's Food Bank receives no core funding from any level of government and relies on the generosity of the community and food industry partners to assist those in need in Edmonton. For more information, please visit edmontonsfoodbank.com.
About Lowe's Canada
Lowe's Companies, Inc. (NYSE: LOW) is a FORTUNE® 50 home improvement company serving approximately 18 million customers a week in the United States and Canada. With fiscal year 2019 sales of $72.1 billion, Lowe's and its related businesses operate or service more than 2,200 home improvement and hardware stores and employ approximately 300,000 associates. Based in Boucherville, Quebec, Lowe's Canadian business, together with its wholly owned subsidiary, RONA inc., operates or services more than 470 corporate and independent affiliate dealer stores in a number of complementary formats under different banners. These include Lowe's, RONA, Réno-Dépôt and Dick's Lumber. In Canada, the companies have more than 26,000 associates, in addition to approximately 5,000 employees in the stores of independent affiliate dealers operating under the RONA banner. For more information, visit lowescanada.ca.