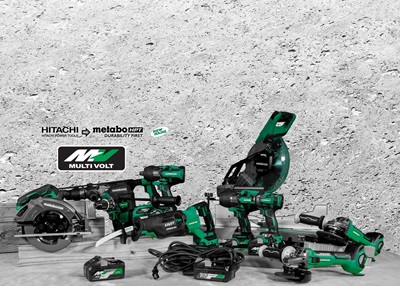 Metabo HPT revolutionary MultiVolt power tool platform for pros now available at Lowe's, RONA, Reno-Depot and Ace stores across Canada
MultiVolt is the only cordless and corded solution available on the market

The platform meets the most demanding power output requirements
Boucherville, QC – October 30, 2019 – Always on the lookout for game-changing products and services to better serve its professional customers, Lowe's Canada, a leading home improvement retailer in the country operating or servicing more than 600 corporate and affiliated dealer stores under different banners, teamed up with Metabo HPT, formerly know as Hitachi, to offer contractors, home builders, trade workers, and heavy DIYers tools equipped with the MultiVolt solution. Now available in Canada in store and online at Lowe's, RONA, Reno-Depot, and Ace Canada, this innovative power tool platform makes it possible to switch from a corded to a cordless power source, without losing any efficiency. The Metabo HPT MultiVolt assortment includes all the power tools needed to get the job done—such as saws, grinders, wrenches, hammers and drills.
"The MultiVolt platform is truly revolutionary, as our professional customers will no longer have to hesitate between buying corded or cordless tools," said Marc Gingras, Divisional Vice-President, Merchandising – Building and Maintenance at Lowe's Canada. "We are happy to partner with Metabo HPT, formerly known as Hitachi, to offer this unique and powerful tool assortment, and to better meet the needs of our hardworking and results-driven clientele".
Specifically made for Pros, Metabo HPT power tools are durable, ergonomic, and versatile. Equipped with the MultiVolt platform, they now offer added flexibility with corded and cordless capabilities, and no compromise on power.
"As Hitachi Power Tools changes its name to Metabo HPT, we are building on a foundation of over 70 years of innovation. We continue this legacy with the launch of MultiVolt, a revolutionary line that is changing the jobsite as we know it", explained Joe Leffler, Executive Vice-President and COO of Metabo HPT. "MultiVolt allows end-users to have power tools that can be used cordless or corded depending on their needs. Thanks to our innovative technology, MultiVolt tools deliver the same power no matter the power source selected, making cordless jobsites a very real possibility. Our goal is to provide customers solutions to their challenges and, to that end, you can expect to see the MultiVolt line grow to include more tools that have traditionally been limited to a corded application."
About Metabo HPT
Metabo HPT (formerly known as Hitachi Power Tools) offers an extensive line of professional grade power tools and accessories for woodworking, metalworking, drilling and fastening, concrete drilling and cutting, outdoor power equipment products as well as a complete line of pneumatic nailers, staplers, compressors and collated fasteners. From headquarters in Braselton, GA, and satellite offices in the United States and Canada, Metabo HPT supports over 4000 retail locations and over 1000 authorized service centers. Metabo HPT is a brand within Koki Holdings America Ltd., the North American division of Koki Holdings Co., Ltd. Visit www.metabo-hpt.com.
About Lowe's Canada
Lowe's Companies, Inc. (NYSE: LOW) is a FORTUNE® 50 home improvement company serving more than 18 million customers a week in the United States and Canada. With fiscal year 2018 sales of $71.3 billion, Lowe's and its related businesses operate or service more than 2,200 home improvement and hardware stores and employ approximately 300,000 associates. Based in Boucherville, Quebec, Lowe's Canadian business, together with its wholly owned subsidiary, RONA inc., operates or services more than 600 corporate and independent affiliate dealer stores in a number of complementary formats under different banners. These include Lowe's, RONA, Réno-Dépôt, Ace and Dick's Lumber. In Canada, the companies have more than 28,000 associates, in addition to approximately 5,000 employees in the stores of independent affiliate dealers operating under the RONA and Ace banners. For more information, visit lowescanada.ca.