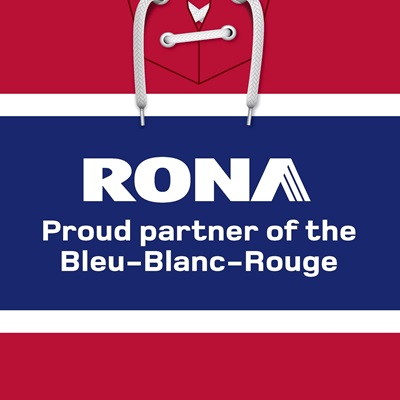 RONA renews its partnership with Group CH to continue bringing the hockey game experience to customers
Boucherville, QC – April 20, 2021 – RONA, a banner of Lowe's Canada, one of Canada's leading home improvement retailers, is proud to announce that it is renewing its partnership with Groupe CH, Quebec's premier sports and entertainment organization. With this three-year partnership, Lowe's Canada will continue leveraging some of Groupe CH's most significant assets, including the beloved Montreal Canadians, the Laval Rocket, and the hockey game experience, to offer customers exclusive opportunities.
The long history of collaboration between Lowe's Canada's family of banners and Groupe CH started more than 25 years ago with in-store and in-game Reno-Depot initiatives. Over the years, the companies have shared a commitment toward supporting local communities while providing them with the shopping and cultural experiences they want. To continue delivering on this commitment within the current context of the COVID-19 pandemic, a heightened level of creativity and collaboration will be key.
"Bringing to life the passion we share with our customers for hockey and the Montreal Canadians is a unique challenge right now," said Catherine Laporte, Vice-President, Marketing. "Given our history of success with Groupe CH, I am confident that our teams will continue to make this happen together. We are already coming up with safe and innovative ways to launch attractive opportunities in our stores and online, starting with an exciting VIP contest this month."
"Groupe CH partners with companies that have the capacity to create experiences that our fans can get excited about," said France Margaret Bélanger, Executive Vice-President and Chief Commercial Officer at Montreal Canadiens. "We've partnered with Lowe's Canada's banners for over two decades because they've done a phenomenal job of creating innovative brand initiatives that bring that game-time excitement to their customers."
VIP game night experience
To celebrate the Bell Center's 25 years, Lowe's Canada is launching a contest for customers to win a VIP hockey night experience. Each winner will receive four tickets for a Bell Centre loge with food and beverage service for a bleu-blanc-rouge game in 2022. Hockey fans can visit rona.ca between now and May 9, 2021, to enter for a chance to win.
To share this news on social media, please use @LowesCanada (LinkedIn) and @LowesCanadaCorp (Twitter).
About RONA
Founded in 1939, RONA is a banner of Lowe's Canada, one of Canada's leading home improvement retailers headquartered in Boucherville, Quebec. Spanning the entire country, the vast network of more than 375 RONA stores includes both corporate stores and independent affiliated dealer stores. Known for its large in-store and online product offering, RONA also provides expert support and advice to its retail and professional customers for their construction and home improvement projects. For more information, visit rona.ca or follow us on Twitter, Facebook, Instagram, Pinterest, and YouTube.
About Lowe's Canada
Lowe's Companies, Inc. (NYSE: LOW) is a FORTUNE® 50 home improvement company serving approximately 20 million customers a week in the United States and Canada. With fiscal year 2020 sales of nearly $90 billion, Lowe's and its related businesses operate or service more than 2,200 home improvement and hardware stores and employ over 300,000 associates. Based in Boucherville, Quebec, Lowe's Canadian business, together with its wholly owned subsidiary RONA inc., operates or services some 470 corporate and independent affiliate dealer stores in a number of complementary formats under different banners, which include Lowe's, RONA, Reno-Depot, and Dick's Lumber. In Canada, they have more than 26,000 associates, in addition to approximately 5,000 employees in the stores of independent affiliate dealers operating under the RONA banner. For more information, visit lowescanada.ca.