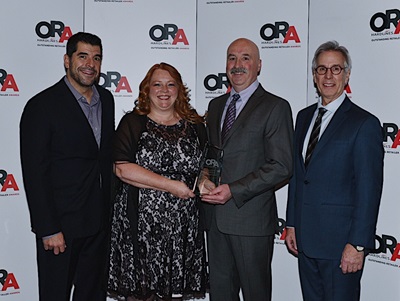 Triple recognition for the Lowe's Canada network at Hardline's 2019 Outstanding Retailer Awards
Lowe's Crowfoot was named Best Large Surface Retailer

RONA Gatineau (Le Plateau) won the Marc Robichaud Community Leader award

Ace Victory Building Centre was bestowed the first ever Industry Spirit award
Boucherville (Québec), November 14, 2019 – It is with great pride that Lowe's Canada, one of Canada's leading home improvement retailers operating or servicing more than 600 corporate and affiliated stores, celebrates the exceptional work of three store teams from its network whose efforts were rewarded last night at the 2019 Outstanding Retailer Awards gala: Lowe's Crowfoot, RONA Gatineau (Le Plateau), and Ace Victory Building Centre.
Organized by Hardlines, the gala recognizes retailers from the home improvement and hardware industries who have distinguished themselves in one of the seven categories for which an application can be submitted. This year, for the first time ever, an eighth award was presented to a store that particularly stood out in the eyes of the jury—the Industry Spirit award. It was attributed to the affiliated Ace Victory Building Centre store, while the corporate Lowe's Crowfoot and RONA Gatineau (Le Plateau) stores left with the Best Large Surface Retailer title and the Marc Robichaud Community Leader award respectively.
"Whether it is offering unparalleled service, helping a customer complete a project, or getting involved to have a positive effect on their community, our people are dedicated to making a difference in the lives of Canadians. I am very proud to see the work of three teams from our large network being recognized and celebrated by our peers in the industry," said Tony Cioffi, Interim President of Lowe's Canada. "I would like to congratulate the winning stores for this great achievement. You are confirmation that, in an evolving retail industry, brick-and-mortar stores have an important role to play among consumers and our communities."
Lowe's Crowfoot (Calgary, Alberta): Best Large Surface Retailer award
"The Lowe's Crowfoot store team perfectly exemplifies how great things can be accomplished by working together," explained Michael McLarney, Founder and Editor of Hardlines. Since becoming Store Manager in 2017, Ahsan Rana has motivated his employees by setting ambitious targets and encouraging them to work together with a single goal in mind—offering the best to their customers. The result: in just two years, the store noted a significant increase in sales, during tough economic times, and has stood out in terms of community involvement. Among other things, in 2019, Lowe's Crowfoot employees raised over $15,000 for Children's Miracle Network and more than $20,000 during the Lowe's Canada Heroes Campaign.
According to Ahsan Rana, the key to their success hinges on the strong relationships that unite the members of his team: "My strength is my team. We are a family. Everyone gives their best to support the team and allow us to reach new heights."
RONA Gatineau (Le Plateau): Marc Robichaud Community Leader award
Social engagement is part of the DNA of RONA Gatineau (Le Plateau) employees. The team, which is among the top contributors year after year during Lowe's Canada's major fundraising campaigns, is also involved with numerous local organizations throughout the year, including Moisson Outaouais. Since 2011, in collaboration with other RONA stores in the region, the store has been supporting Moisson Outaouais, a local food bank that helps people suffering from food insecurity in Outaouais. This year, RONA's total contribution to the organization surpassed the million-dollar mark.
"I am extremely proud to work with such engaged colleagues who aren't scared to roll up their sleeves to make a difference in our community," said Christian Leduc, Store Manager at RONA Gatineau (Le Plateau). "During each campaign, I am amazed to see our people come together and witness the generosity of our customers who never hesitate to donate to support causes that are dear to us. It's a great privilege to interact with such devoted and generous people on a daily basis."
Ace Victory Building Centre: Industry Spirit award
In 2005, after a first career spanning about 20 years in completely different fields, Sylvain and Marilyne Laferriere took the plunge and started their own business by acquiring a local store that became Ace Victory Building Centre. Fourteen years later, the store is a true pillar within the Mackenzie community in British Columbia. For the Laferrieres, the business must think about the community in which it is rooted and build around it. With the support of their team, they get involved with many local organizations and actively contribute to enriching the social life of their municipality by taking part in various activities, which even included organizing dance lessons in the store after closing time.
"It is for cases exactly like that of Ace Victory Building Centre that we have decided to create the Industry Spirit award this year," explained Mr. McLarney. "I had been thinking about this addition for a long time. Each year, we receive an application that stands out from the rest on various levels. We wanted to be able to recognize this exceptional applicant with a unique award. Sylvain and Marilyne have infused all their passion for customer service and love for people into their business. We feel their profound attachment to their community and they deliver on all this in their own unique style, which sets them apart. Bravo to these two entrepreneurs who dare to do things differently for the benefit of their community."
To share this news on social media, please use @Lowe's Canada (LinkedIn) and @LowesCanadaCorp (Twitter).
About the Outstanding Retailer Awards
Launched in 1992, the Hardlines Outstanding Retailer Awards are the industry's only national awards program dedicated to celebrating the achievements of hardware and building supply dealers in Canada. In its 27-year history, the program has honoured more than 150 retailers.
About Hardlines
Celebrating its 24th year, Hardlines Inc. is a leading authority on the retail home improvement industry. Hardlines' products and services include its weekly Hardlines electronic newsletter; its print magazine, Hardlines Home Improvement Quarterly; a comprehensive and informative website; Hardlines Dealer News for retail dealers and managers; a free daily news service; and the annual Hardlines Conference. For more information, please contact Michael McLarney, President of Hardlines Inc., at 416-489-3396 or [email protected].
About Lowe's Canada
Lowe's Companies, Inc. (NYSE: LOW) is a FORTUNE® 50 home improvement company serving more than 18 million customers a week in the United States and Canada. With fiscal year 2018 sales of $71.3 billion, Lowe's and its related businesses operate or service more than 2,200 home improvement and hardware stores and employ approximately 300,000 associates. Based in Boucherville, Quebec, Lowe's Canadian business, together with its wholly owned subsidiary, RONA inc., operates or services more than 600 corporate and independent affiliate dealer stores in a number of complementary formats under different banners. These include Lowe's, RONA, Réno-Dépôt, Ace and Dick's Lumber. In Canada, the companies have more than 28,000 associates, in addition to approximately 5,000 employees in the stores of independent affiliate dealers operating under the RONA and Ace banners. For more information, visit lowescanada.ca.